13 Apr 2017
New Centre in Shatin Is Now Open!
- Steps PlaygroupTM 50%off
- All English Courses - 20%off
T: 23880399. Email: grow@steps.edu.hk
Room N, 10/F, Kings Wing Plaza 1, No. 3 On Kwan St., SHATIN
17 Dec 2016
Step On My Stage Show at APA - GREAT SUCCESS!
Let's give a big applause to all our very young but talented performers haveing their musical theatre and dance performances at Hong Kong Acedemy of Performing Arts!
20 Jan 2014
Preschool Magazine interviewed Steps Playgroup - Jan 2014 Issue
To read the magazine in details, please press on the icons.
8 Jul 2013
Apple Daily Report on our 4Q programme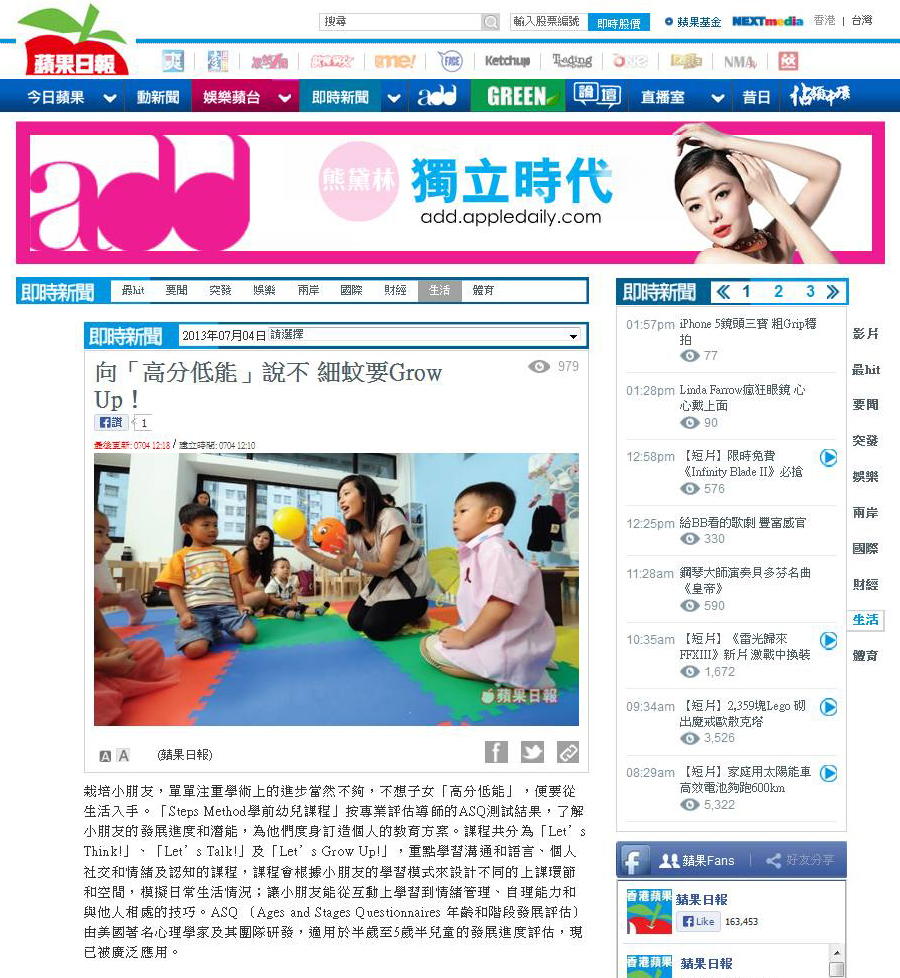 6 Jun 2013
Baby Magazine Cover Story Interviewing Steps Education
Baby Magazine interviewed Miss Carmen Leung and Miss Rose Wong,  Curriculum Director and Registered Psychologist of Steps Education respectively on their views of promotion young children's 3Q - IQ, AQ, EQ development.
Please click on the image for the full article.
https://www.facebook.com/media/set/?set=a.612278585450633.1073741829.442674765744350&type=1&l=4aac6e0dc8
24 May 2013
Interview with Whiz-kids Express Weekly
We are delighted to be interviewed by Whiz-kids Express Weekly featuring our 4Q courses .The all-round courses aim to develop and balance children's 4Qs- Intelligence Quotient(IQ),Creativity Quotient(CQ),Emotion Quotient(EQ) and Adversity Quotient (AQ).
Many recognize the importance of IQ but fail to realize that the 4Qs are complementing each other and should be viewed as a whole. Through the 4Q courses Steps strive to provide children with an environment to grow academically, socially and emotionally at the same time.
The 4Q courses consist of two modules, "Let's think! -IQCQ" focuses on problem solving, logical thinking and creativity ,while "Let's grow up! - EQAQ" focues on emotion management, social skills and adaptability. To read more, please click on the below images